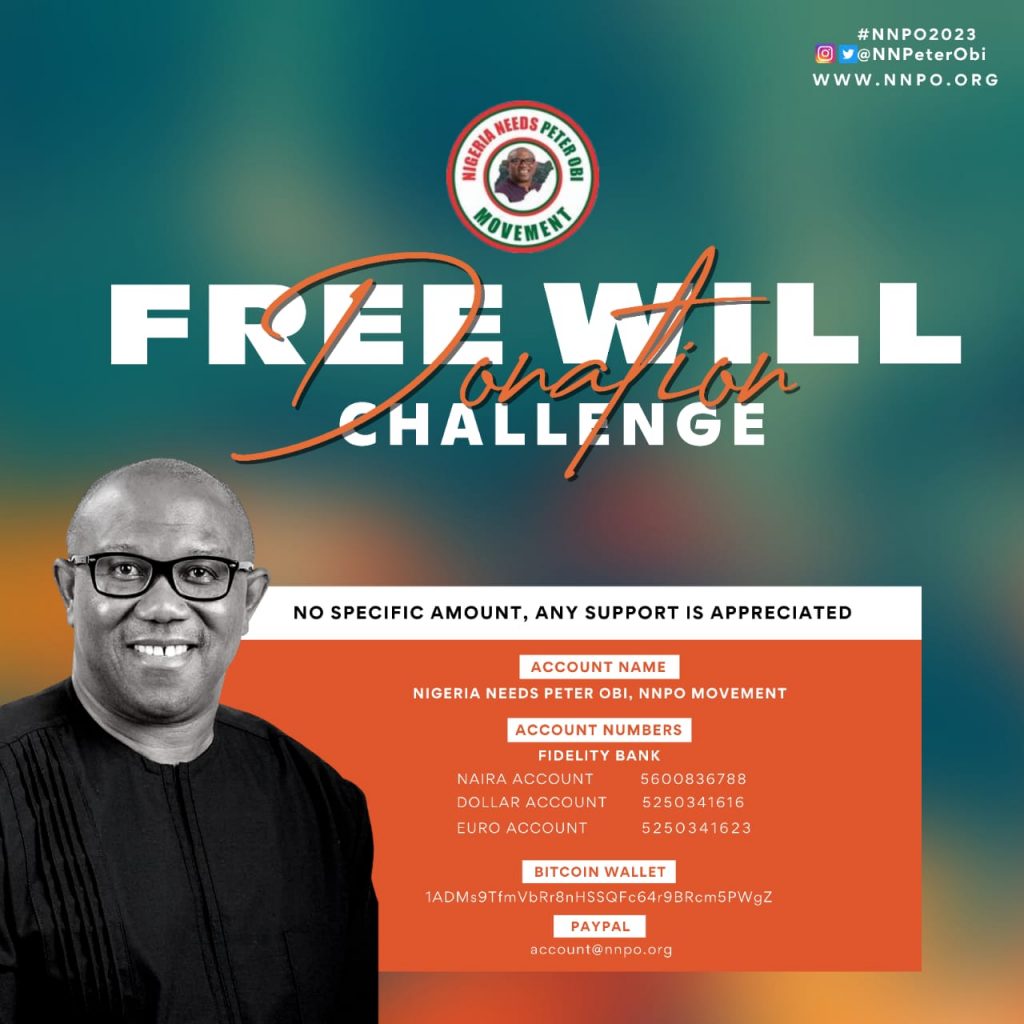 Soliciting For Financial Assistance…..
We are Nigeria Needs Peter Obi, (NNPO) Movement, who believe very strongly that the former two-term governor of Anambra State is indeed head and shoulders above all other qualified aspirants in practical and convincing abilities to effectively turn around our nation from the very dangerous slide into extinction.
We have branches in all 36 states of the nation plus Abuja as well as other African Countries including South Africa, Ghana, Togo, Liberia, Cote D'voire, Cotonou, Seme, and also beyond the boarders of mother continent into Turkey, Malaysia, Japan, Holland, Spain, etc, and spreading rapidly.
In that regard, we have created three bank accounts as follows
BANK ACCOUNTS…..
Naira Account- 5600836788
Euro Account – 5250341623
Dollar Account – 5250341616
Bank Name – Fidelity Bank
Accounts Name, – Nigeria Needs Peter Obi, NNPO Movement

ONLINE ACCOUNT:
Bitcoin Wallet:
1 ADMs9TfmVbRr8nHSSQFc64r9BRcm5PWgZ
2. PayPal
account@nnpo.org
We are tasking ourselves to raise funds within the members and everyone out there, who believes in the brand Peter Obi, as a step-out sacrifice in what will be followed by many more in this selfless movement to behold a country that we can all be proud to call home.
Your kind contribution is highly needed and will be immensely appreciated.
God bless you.
God bless NNPO
God bless HE Peter Obi
And God bless our desired New Nigeria.
Yours faithfully,
AMB. DR. JUSTIN OKECHUKWU KINGLAND (DrM)
Director General- NNPO Movement